*new*
Oct 23, Tuesday – The Energized Guyz (grades 3-5 enrichment)
Oct 24, Wednesday – Picture Day
Oct 26, Friday – 4th Grade Field Trip to Lowell Mills
Oct 26, Friday – Spirit Day, Class Colors
Oct 26, Friday – 8th Annual AYCC Gala 7 PM – 11 PM
Oct 30, Tuesday – Coffee Chat With Karen, 8:15 am
Oct 30, Tuesday – Changing the Culture Around Mental Health @ Ottoson 7 PM to 8:30 PM
Oct 31, Wednesday – Direct Donation Drive: Last day!
Oct 31, Wednesday – Waldo Park Halloween Event 5 PM
Nov 1 & 2, Thursday & Friday – 2nd Grade Field Trip to Wheelock Family Theatre
Nov 2 & 3, Friday & Saturday – Halloween Candy Buy-Back
Nov 6, Tuesday – No School & Election Bake Sale
Nov 12, Monday – No School
Nov 14, Wednesday – PTO Meeting 7 PM-  9 PM
Nov 14, Wednesday – AFC's Childcare & Preschool Options Night 7 PM – 8 PM
School Calendar
Click here for Thompson's Google Calendar to get school holidays, early release days, and PTO events on your own calendar. Click here for a printable version of this month's calendar.
The Arlington Public School Calendar is @ www.arlington.k12.ma.us/calendar
Direct Donation Drive
132 more families to make our participation goal!!!
The Direct Donation Drive is coming to an end in less than 2 weeks. So far, 143 families have participated, but we still have a long way to go to meet our 275 family participation goal. Now is the time to put it at the top of your to-do list! Send a check in your kid's backpack or make a contribution online.
Picture Day
Wednesday, October 24
Dress sharply! Order Pictures at CoffeePond.com (under order pictures/school portraits) or send your child with the order envelope that was sent home last week.
We still need a few parent volunteers to help the day run smoothly. If you're interested in helping out, please sign up at https://tinyurl.com/ThompsonPictures.
Room Parent Still Needed!
We are still looking for a room parent to support Ms. D'Intino's 5th grade class.  If you would like to volunteer to be a Room Parent or have any questions about Room Parents, please contact Christy Murphy-Macinta, cembc99@yahoo.com.
Spirit Day, Class Colors
Friday, October 26th
Show your grade level spirit by wearing the designated color! K: Purple; Gr 1: Green; Gr 2: Blue; Gr 3: Yellow; Gr 4: Red; Gr 5: Rainbow, all the colors.
Green Team Calendar
Join the Green Team for these events!
October 27th 9-12! – Fiona Ehring will lead a Garden Work Day
October 27th and 28th – Green Team will also join Mothers Out Front labeling Gas Leaks in the Thompson neighborhood.

Contact Nili Pearlmutter at info.ma.arlington@mothersoutfront.org for more information.

Please email Fiona at fionaehring@gmail.com or Elizabeth at egrocco@gmail.com if you are interested in joining a forming Thompson Garden Committee to integrate the Thompson School Gardens into the K-5 Curriculum!
Green Team News
Green Team was busy this month! We formed a Garden Committee and wrote a grant to integrate an edible school garden into the Thompson curriculum. (We are seeking parents, teachers and 4th and 5th grade students to be part of the committee.)
Green team hosted and filmed our first plant walk featuring Meredith Seifert discussing the super powers of Thompson plants.
October 16th-18th the 5th grade community headed to Alton Jones for Science Camp. On October 19th the Green Team club harvested from the garden and shared the fruits of it's harvest with Thompson After School program. On October 20th Kate Joyce Murphy led Plogging! We walked and picked up trash around Thompson.  That day the club also made an installation of tiny pumpkin houses:Green Team Urban Ecovillage or Else (an unlivable planet!) The neighborhood featured natural building techniques and the latest green technology: thick insulated walls, all natural building materials and furniture, radiant floors, solar panels, wind turbines, natural lighting with sky lights, compost toilets, green roofs, living gardens, a forest, compost bins, rainwater catchment tanks, a fish pond, bike paths, a electric car power station, solar ovens, a greenhouse and a cafe.
The Green Team club meets after school on the first and third Fridays.
Election Day Bake Sale
We are looking for a parent or two to plan our Election Day Bake Sale on November 6th. An easy fundraiser that in 2016 raised approximately $1400! We have all the information you will need to organize it. If you would like more information or are interested in planning it, please email Yael Beals yael.beals@gmail.com.
Thompson Winter Party
The Thompson Winter Party is social event that is just for parents. It is a fun evening filled with conversation, music and dance.  The party is usually held in January.  We are looking for 2 co-chairs to plan and organize the event.  If you are interested, please email Yael Beals yael.beals@gmail.com
8th Annual AYCC Gala
It's not too late to buy tickets to the 8th Annual AYCC Gala on Friday, October 26th! AYCC is the leading mental health agency in town that provides counseling for Arlington children, youth and their families regardless of their ability to pay.  Please help support this critical service and make our community even better and stronger.  Added bonus, this year we are honoring Arlington Police Chief Fred Ryan.  Tickets can be bought at www.ayccma.org/gala.

Changing the Culture Around Mental Health: It's Past Time
October 30 7:00 PM – 8:30 PM @ Ottoson Middle School
John Broderick, the former chief justice of the New Hampshire Supreme Court, is leading a campaign to bring mental illness out of the shadows. His son's mental illness had gone undiagnosed for nearly 20 years: "I was the parent and I didn't see it. So he suffered for years. Then we had that horrible tragedy and he went to prison. And I don't know how he survived that."  In 2016 Justice Broderick agreed to co-chair the first statewide launch in New Hampshire of a national mental health awareness campaign called Change Direction in New Hampshire.  For the past two years, he has spoken countless times about the five most common signs of mental illness, in an effort to improve understanding and awareness of mental health.   PRESENTER: John Broderick is the Senior Director of Public Affairs at Dartmouth-Hitchcock's R.E.A.C.T. Mental Health Awareness Campaign.  Broderick believes that "we have the ability to change the culture and the way mental health is viewed."
Halloween Event at Waldo Park
Wednesday, October 31st
All are invited to the 13th annual Waldo Park Halloween Party on Wednesday the 31st.  We'll gather at the Park beginning at 4:30 pm, and we'll have a costume "fashion show" that'll start around 5 pm or so.  A light dinner (hot dogs and veggie items) will be served before dark, so that all who wish can eat a meal before trick-or-treating. (Waldo Park is located at the end of Waldo Road, off Cleveland Street, between Mass Ave and Broadway.)
– Friends of Waldo Park
Annual Halloween Candy Buy Back Event
When
    Friday, November 2nd, 9am- 5pm
    Saturday, November 3rd, 8am- 2pm
Where
If your children are overachievers and collect more candy that you can possibly imagine eating this Halloween…
Arlington Orthodontics is gearing up for their Annual Halloween Candy Buy Back Event to benefit Arlington Elementary School PTOs and our troops serving abroad! Children/Parents are invited to drop off their leftover Halloween Candy at their office November 2nd and 3rd. They will give the child or parent $2/lb (max $10) as well as make a matching donation to the child's school PTO. All candy is shipped to troops serving overseas! Last year THOMPSON SCHOOL received $365 that went directly towards Enrichment programs organized by the PTO.
Thanks for participating!
AFC's Childcare & Preschool Options Night
Nov 14, 7 PM – 8 PM @ Thompson Elementary Gym
Local parents, both from Arlington and surrounding towns, are welcome to join for a free night of one-stop shopping for their childcare needs. This is a wonderful chance for busy parents to come to one place and meet the faces behind Arlington's great preschools and daycare centers all at once. Parents can save time and gas, not having to drive all over town to pick up brochures and applications. There are nearly twenty licensed preschools and daycare centers in town with a large variety of programs. Free and open to all local parents.
Questions? Email options@arlingtonfamilyconnection.org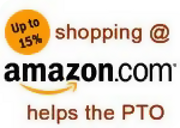 Please remember to use the Amazon link on the PTO Website for your online shopping!

We are collecting Box Tops throughout the year. Each box top is worth 10 cents for Thompson. The submission deadline is Nov. 1 for fall earnings. You can find a pink and yellow Box Tops container in the lobby below the mailboxes.