*new*
Oct 30, Tuesday – Parent Forum: Changing the Culture Around Mental Health @ Ottoson 7 pm to 8:30 pm
Oct 31, Wednesday – Direct Donation Drive: Last day!
Nov 1, Thursday – 2nd Grade Field Trip to Wheelock Family Theatre
Nov 1, Thursday – Box Top Fall Submission Deadline
Nov 2, Friday – Coffee Chat With Karen, 8:15 am – Date Change
Nov 2 & 3, Friday & Saturday – Halloween Candy Buy-Back
Nov 3, Saturday – School Committee chat, 11 am – 12 pm
Nov 6, Tuesday – No School & Election Bake Sale
Nov 12, Monday – No School
Nov 14, Wednesday – PTO Meeting 7 pm- 9 pm
Nov 14, Wednesday – AFC's Childcare & Preschool Options Night 7 – 8 pm
Nov 14 & 28, Wednesday – Kindergarten Enrichment Program Wicked Cool for Kids
Nov 15, Thursday – School Committee meeting, 6:30 – 10 pm
Nov 17, Saturday – Boys In Motion 5K – 9 am
Nov 19, Monday – Otto Pizza Fundraising Night, 5 – 9 pm
Nov 21, Wednesday – 12 pm Release
Nov 22 & 23, Thursday and Friday – No School
Nov 30, Friday – Spirit Day: Sports Day
School Calendar
Click here for Thompson's Google Calendar to get school holidays, early release days, and PTO events on your own calendar. Click here for a printable version of this month's calendar.
The Arlington Public School Calendar is @ www.arlington.k12.ma.us/calendar
Direct Donation Drive
Did you know that 214 families have already contributed to the Thompson Direct Donation Drive? Many have also asked family and friends to support our school. Thank you to all those who have made a contribution.

There are only 3 DAYS left to help us meet our goal of 275 contributing families! If you have not done so, join your fellow Thompson parents to help make this drive a success!
Dear Thompson Families,
I wanted to share with you the work that was done with the Leadership Team this summer around Schoolwide Expectations. Most of what is included in our expectations have been practices that that we have been referring to for the past couple of years, and they are quantified here and posted throughout the school. We have identified them and then given some examples of what this "looks like" at school. I encourage you to talk with your children about these, and how they are upholding them at school, and even how they could transfer to home in some cases!
Expectation #1: Take Care of Each Other and Our School
See something say something

Ask, not assume (pause before you act)

Treat others the way you want to be treated

Keep our school clean and tidy
Expectation #2: Mind Your Manners
Say please and thank you

Say excuse me

Look each other in the eye

Be kind to one another

Pass the door to the person behind you
Expectation #3: Safe and quiet bodies in the hall
Stay to the right

Move together as a class

Single file on the stairs

Hands by your sides or in your pockets

Be mindful of the learning of others
Expectation #4: Have a Safe, Fun, Fair recess
Follow the school rules for games

Only play the games that are intended for that space

Allow everyone to join a game

Walk to the green fence

Line up in the designated area at the end of recess

Use whistle system

1st whistle = stop and listen (adult-pause, count to 10 in your head)

2nd whistle = do and line up
Expectation #5: Relax and Refuel in the Cafeteria
Sit with your class

Pick one seat for yourself (no saving seats)

Stay seated

Wait for your table to be called to throw out your lunch and return to your seat

Clean up your spot–table and floor

Raise your hand if you need to get something

Use a bathroom pass→ leave it on your seat

Sign out with Lunch Captain when eating with an adult

Stay at your table until your teacher lines you up
Thank you for your continued support as we work together to shape the minds and hearts of our students.
A couple of housekeeping items:
*Please come check the Lost & Found (before it gets even fuller with hats, gloves, and boots!)
*Don't forget on Sunday Nov. 4th the clocks will TURN BACK an hour
**Date Change: Please note that the Coffee with Karen has been rescheduled to Friday, Nov. 2nd, from 8:30-9:15, in the Cafeteria**
Sincerely,
Karen
Election Day Bake Sale
November 6th, 7am-11am and 4pm-6.30pm 
Location: Thompson School Lobby
Don't forget to vote on November 6th and after stop by the Thompson PTO table to purchase a baked good or volunteer for an hour. Kids are welcome to help out too.
Sign up to bake or help at the sale. https://tinyurl.com/bakesalelection
Bakers, please drop off the goodies on Monday, Nov 5th, in the PTO room. If not on Monday, please drop them off early morning on Tuesday.
Items should be pre-cut into SMALL portions for easy handling. Please wrap individually, or seal in an air-tight container to stay fresh overnight.
If your items are nut-free, dairy-free, egg-free, or gluten-free, please label them as such to help allergic community members identify them!
Any items containing peanuts or tree nuts MUST be labeled as such.
Some families have asked whether we are also accepting donations of pies to be sold whole as in past years – the answer is a resounding yes!
Not sure what to bring? Consider breakfast-friendly muffins or pastries, or the ever-popular brownies or cupcakes! Or if you're feeling creative, come up with your own election-themed treat!
Green Team News
Our next Green Team Club meeting will be Friday Nov. 2nd 2:35-3:30 pm in room 210. We will explore creativity in environmental education. Using ACMI equipment we will experiment with our film making skills and learn and film the dance to REM's Stand.
Contact Elizabeth Rocco at egrocco@gmail.com for more information on Green Team. Please email Fiona at fionaehring@gmail.com or Elizabeth if you are interested in joining a forming Thompson Garden Committee to integrate the Thompson School Gardens into the K-5 Curriculum!
Parent Forum: Changing the Culture Around Mental Health: It's Past Time
October 30 7:00 PM – 8:30 PM @ Ottoson Middle School
John Broderick, the former chief justice of the New Hampshire Supreme Court, is leading a campaign to bring mental illness out of the shadows. His son's mental illness had gone undiagnosed for nearly 20 years: "I was the parent and I didn't see it. So he suffered for years. Then we had that horrible tragedy and he went to prison. And I don't know how he survived that."  In 2016 Justice Broderick agreed to co-chair the first statewide launch in New Hampshire of a national mental health awareness campaign called Change Direction in New Hampshire.  For the past two years, he has spoken countless times about the five most common signs of mental illness, in an effort to improve understanding and awareness of mental health.   PRESENTER: John Broderick is the Senior Director of Public Affairs at Dartmouth-Hitchcock's R.E.A.C.T. Mental Health Awareness Campaign.  Broderick believes that "we have the ability to change the culture and the way mental health is viewed."
Halloween Event at Waldo Park
Wednesday, October 31st
All are invited to the 13th annual Waldo Park Halloween Party.  We'll gather at the Park beginning at 4:30 pm, and we'll have a costume "fashion show" that'll start around 5 pm or so.  A light dinner (hot dogs and veggie items) will be served before dark, so that all who wish can eat a meal before trick-or-treating. (Waldo Park is located at the end of Waldo Road, off Cleveland Street, between Mass Ave and Broadway.)
Annual Halloween Candy Buy Back Event
Friday, November 2nd, 9am- 5pm,  Saturday, November 3rd, 8am- 2pm, Arlington Orthodontics. 800 Mass. Ave. Arlington.

If your children are overachievers and collect more candy that you can possibly imagine eating this Halloween…
Arlington Orthodontics is gearing up for their Annual Halloween Candy Buy Back Event to benefit Arlington Elementary School PTOs and our troops serving abroad! Children/Parents are invited to drop off their leftover Halloween Candy at their office November 2nd and 3rd. They will give the child or parent $2/lb (max $10) as well as make a matching donation to the child's school PTO. All candy is shipped to troops serving overseas! Last year Thompson School received $365 that went directly towards Enrichment programs organized by the PTO. Thanks for participating!
Kids' Night Out! 
Nov 10, 5:30 PM – 8:30 PM @ Arlington High School
Children in grades K-4 are welcome in Arlington High School's Blue Gym for a night of games, crafts, movies and more! A delicious pizza dinner and snacks will be provided.
An RSVP is recommended, but not required. Kids can stay for the whole three hours, or just come for an hour or two! The cost is $20 for the first child, and then $10 for each additional sibling. All of the proceeds from this event will be going towards the AHS Student Council mini-grant fund, a new program that gives grants to AHS clubs, and allows Arlington students to go out and do incredible things.
This event is organized and run by high school students, but there will be an adult advisor present at all times. And in the incredibly unlikely event of injury, we have people who are CPR certified and first-aid certified present at the event as well. To RSVP: Email trosen2020@spyponders.com. Please include your child or children's: Name(s), Age(s), How long they plan to stay, and any dietary restrictions they have.
The Address is 869 Mass. Ave, but we ask that people enter through the Mill St. Entrance. If you have any questions, don't hesitate to email us!
We hope to see you there!
Family Folk Chorale: All Ages Sing and Concert: R.E.M. and Indigo Girls
Sunday, November 11th @ 3 pm, Arlington Town Hall          
Under the direction of Artistic Director Christ Eastburn, the Family Folk Chorale intergenerational chorus will be performing the music of R.E.M. and Indigo Girls at an all-ages concert and community sing. (Last year, Eastburn partnered with the Thompson PTO and Green Team to lead the community sing of "One Day" at the June picnic.) Buy tickets at Brown Paper Tickets.
AFC's Childcare & Preschool Options Night
Nov 14, 7 PM – 8 PM @ Thompson Elementary Gym
Local parents, both from Arlington and surrounding towns, are welcome to join for a free night of one-stop shopping for their childcare needs. This is a wonderful chance for busy parents to come to one place and meet the faces behind Arlington's great preschools and daycare centers all at once. Parents can save time and gas, not having to drive all over town to pick up brochures and applications. There are nearly twenty licensed preschools and daycare centers in town with a large variety of programs. Free and open to all local parents.
Questions? Email options@arlingtonfamilyconnection.org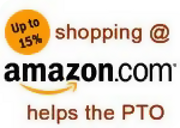 Please remember to use the Amazon link on the PTO Website for your online shopping!

We are collecting Box Tops throughout the year. Each box top is worth 10 cents for Thompson. The submission deadline is Nov. 1 for fall earnings. You can find a pink and yellow Box Tops container in the lobby below the mailboxes.