* New *
Oct 10, Wednesday – PTO Meeting: Budget Approval, 7 – 9 pm
Oct 11, Thursday – Arlington EATS Community Meal
Oct 12, Friday – Movie Night! 6 – 8:15 pm
Oct 16-19 – 5th Grade Science Camp
Oct 20, Saturday – Green Team Club, 10 am – 12 noon
Oct 23, Tuesday – The Energized Guyz (grades 3-5 enrichment)
Oct 24, Wednesday – Picture Day
Oct 26, Friday – 4th Grade Field Trip to Lowell Mills
Oct 26, Friday – Spirit Day, Class Colors
Oct 30, Tuesday – Coffee Chat With Karen, 8:15 am
Oct 31, Wednesday – Direct Donation Drive: Last day!
School Calendar
Click here for Thompson's Google Calendar to get school holidays, early release days, and PTO events on your own calendar. Click here for a printable version of this month's calendar.
The Arlington Public School Calendar is @ www.arlington.k12.ma.us/calendar
Dear Thompson Community,

The month of September has flown by and we find ourselves here in October! The opening of school went very smoothly, with students and teachers spending time getting to know each other. One of the most important parts of the day is Morning Meeting. This occurs from 8:15-8:50 each morning, and it is the time when the students preview the schedule for the day, learn about each other and their teacher, and practice important social skills such as how to greet one another, problem solve, and manage their emotions. With all that in mind, it is extremely important that children arrive to school on time.

One of the areas that we are finding challenging is recess and lunch. We have established and reviewed expectations with all students both in class and in the cafeteria during their "cafeteria orientation" the first week of school, and teachers continue to review them in class. What I am observing is that some students are not demonstrating the same amount of respect for our recess/lunch staff, as they do for their teacher and principal. The most important thing I am asking students to do is to respond to the adults when requested. The requests could be for the whole group such as a clapping response, a quiet signal, or even an attempt to have a conversation with a student or two outside. These requests ask for students to stop what they are doing, turn their voices off, and look to the adult for instructions—such as cleaning up from lunch, an important message about safety, or time to line up to come in. I am asking for your support in this area—as I have said to all of the students—the women who are here to support them during lunch and recess are to be given the same respect as any other person who works in the school. I am hoping to have more lunch groups with smaller groups of students this year to discuss their thoughts on lunch and recess and get their input as well on improving it for all of us.
October also brought a special event for one of our staff members—Ms. Brayfield! This past weekend my family and I were fortunate to be able to be a part of her wedding weekend to our good friend, Bob Fanciullo. There was a beautiful ceremony and reception near her hometown of Southington, CT, with love, laughter, and happiness filling the air! If you have some time, I'd be happy to share how my husband John and I introduced them! As expected, she was a beautiful bride….Congratulations, Mr. & Mrs. Fanciullo!
Karen
P.S. Mark your calendars for the first Coffee Chat w/Karen after drop-off on Tuesday, Oct. 30, in the cafeteria.
Direct Donation Drive
The first week of the Direct Donation Drive resulted in 44 family contributions. Thank you to those who contributed! With only three weeks to go, help us reach our family participation goal of 275 families! Click the image to donate via PayPal.

Movie Night, 6 p.m. Oct. 12 @ Thompson
Movie night is coming up Oct. 12th. Come snuggle in your pjs and watch a movie with your friends at Thompson School. This year we'll be showing Coco in honor of Día de los Muertos (the Mexican Day of the Dead) and Halloween! Children must be accompanied by a responsible adult.
The movie will be screened in three locations due to room capacity limits: Library (for kindergarten), Multipurpose Room (grade 1), and Gym (grades 2-5). Given the popularity of the event, please arrive on time to get a spot!
Pizza and popcorn for sale at 6 p.m. in the cafeteria, movie starts at 6:30.
We need volunteers for movie night!
https://www.signupgenius.com/go/4090f49adad2aa0f49-20181
Room Parents Still Needed!
We are still looking for a few room parents to support Ms. D'Intino's 5th grade class and the Music specialists.
If you would like to volunteer to be a Room Parent for either of these teachers or have any questions about Room Parents, please contact Christy Murphy-Macinta, cembc99@yahoo.com.
Picture Day Wednesday, October 24
Dress sharply! Look for packets in your kids' backpacks later this week with instructions on how to order school pictures.
We need parent volunteers to help the day run smoothly. If you're interested in helping out, please sign up at https://tinyurl.com/ThompsonPictures.
If you didn't hear, we sold a record-breaking 1,183 cards on Town Day! It doesn't end there, though. Family Sales sellers are actively selling to friends and neighbors, and we will also end up selling another 300 or so through The Book Rack and Menotomy Beer & Wine. Still need a card? Buy one anytime at:
• Book Rack
• Menotomy Beer and Wine
• Online at www.arlingtoncommunitycard.org [PayPal or Credit Card]
• From Vicki at the front desk [cash or check]

Want to get involved with the Community Card fundraiser, either now or in the near future? We'd love to have you on board! Reach out anytime to:
Ashley Lorenz, Co-Chair: ashley.e.lorenz@gmail.com
Gaggi DeStefanis, Co-Chair: gaggi@rcn.com
Green Team Calendar
Join the Green Team for these events!
Friday October 19th Green Team Club 2:35-3:30 pm
We will meet in the garden for a work day led by Thompson mom, Fiona Ehring. (If there is heavy rain, we will meet in room 210 to plan a pollinator and/or colonial garden.)

Saturday October 20th 10am-noon Plogging
Thompson families will meet at Thompson Garden to walk, jog, explore the neighborhood and pick up trash led by Thompson mom, Kate Joyce Murphy.

Saturday in October TBA Garden Work Day led by Thompson mom, Fiona Ehring.

October 27th and 28th Mothers Out Front Gas Leak Labeling. Contact Nili Pearlmutter at info.ma.arlington@mothersoutfront.org for more information.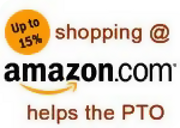 Please remember to use the Amazon link on the PTO Website for your online shopping!

We are collecting Box Tops throughout the year. Each box top is worth 10 cents for Thompson. The submission deadline is Nov. 1 for fall earnings. You can find a pink and yellow Box Tops container in the lobby below the mailboxes.
We are always looking for parents to help during the 2018-2019 school year for roles large and small. If you are just a little bit interested, please check off the position(s) in this survey. This simply shows your interest, it doesn't commit you to the position! The PTO board will correspond and/or meet with interested parents. Thank you for your interest!